Quality
​
Many distinct factors influence the strength of welds and the material around them, including the welding method, the amount and concentration of energy input, the
weldability
of the base material, filler material, and flux material, the design of the joint, and the interactions between all these factors.
To test the quality of a weld, either
destructive
or
nondestructive testing
methods are commonly used to verify that welds are free of defects, have acceptable levels of residual stresses and distortion, and have acceptable heat-affected zone properties. Types of
welding defects
include cracks, distortion, gas inclusions (porosity), non-metallic inclusions, lack of fusion, incomplete penetration, and undercutting.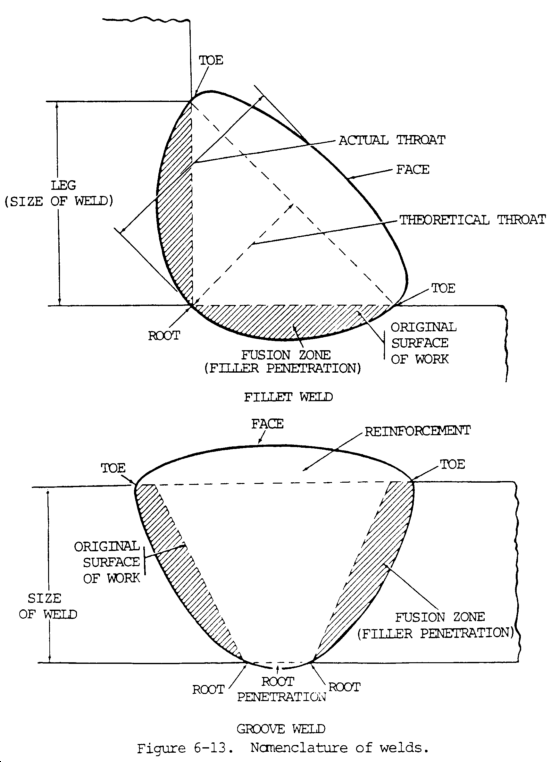 WELDING PROCEDURE SPECIFICATION
A
Welding Procedure Specification
(WPS) is the formal written document describing
welding
procedures, which provides direction to the welder or welding operators for making sound and quality production welds as per the code requirements . The purpose of the document is to guide welders to the accepted procedures so that repeatable and trusted welding techniques are used. A WPS is developed for each material alloy and for each welding type used. Specific codes and/or engineering societies are often the driving force behind the development of a company's WPS. A WPS is supported by a Procedure Qualification Record (PQR or WPQR). A PQR is a record of a test weld performed and tested to ensure that the procedure will produce a good weld. Individual welders are certified with a qualification test documented in a Welder Qualification Test Record that shows they have the understanding and demonstrated ability to work within the specified WPS.
METALLURGY
Metallurgy
is a domain of
materials science and engineering
that studies the physical and chemical behaviour of
metallic
elements
, their
intermetallic compounds
, and their mixtures, which are called
alloys
. Metallurgy is also the
technology
of metals: the way in which science is applied to the production of metals, and the engineering of metal components for usage in products for consumers and manufacturers. Metallurgy is subdivided into
ferrous metallurgy
and
non-ferrous metallurgy
or
colored metallurgy
. Ferrous metallurgy involves processes and alloys based on
iron
while non-ferrous metallurgy involves processes and alloys based on other metals. The production of ferrous metals accounts for 95 percent of world metal production.